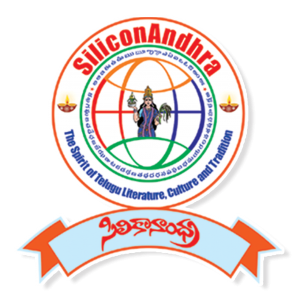 Silicon Andhra is a non-profit organization with goals to maintain and perpetuate the Telugu Samskruti (Culture), Sahityam (Literature) and Sampradayam (Tradition) among the Telugu speaking people. Silicon Andhra is committed to raise the awareness of the Telugu culture by organizing unique cultural and literary events that depict the rich cultural heritage traditions and arts of Andhra Pradesh and Telangana.
Telugu language has a rich history of about 2500 years and its culture; traditions and literature have been dated back to early 700 BC. Art, music, dance, language, poetry, traditions, family values are the heritage of Andhra Pradesh and Telangana.
Silicon Andhra India is an affiliate of Silicon Andhra, USA, and is also a nonprofit charitable organization formed in India with similar objectives as Silicon Andhra USA. They have conducted many cultural events and brought to forefront the underlying unique talent in communities across India in both Sri. Annamacharya and Sri. Bhadrachala Ramadasu Carnatic music and Classical dance events. SiliconAndhra organized 5 Intentional Kuchipudi Conventions so far to bring 5 generations of Kuchipudi Artistes from different countries onto single platform. Silicon Andhra India Created 4 Guinness World Records by performing Kuchipudi and drawn International Media attention towards 600 years old Indian Classical Dance form from Andhra Pradesh. The SiliconAndhra institution has provided a unique platform for these teachers in interpreting, coaching, teaching intricate vedic embodied traditional to the generations across India, across many cultures, and across regions around the globe.
SiliconAndhra has established firm spirit in many families across the globe by conducting annual events commemorating Sri Annamacharya's Jayanthi Utsavams and Sri Bhadrachala Ramadasu  Sri Tallapaka Annamacharya who is a fifteenth century composer is the earliest known Indian music composer who composed songs called Sankeerthanas in praise of Lord Vishnu. These Sankeertanas have strongly influenced Carnatic music compositions that followed later on. Only 12,000 of his compositions out of more than 32,000 are available on date and these beautiful artworks come in several genres such as Spiritual, Philosophical, Devotional, Romantic, and so on reflecting that exhibit macro-cosmic, micro-cosmic, and meso-cosmic nature. Likewise, Sri. Bhadrachala Ramadasu hailed from 17th century whose divine compositions have strongly influenced many contemporary Carnatic music composers and several of his compositions are sung in the Bhajana Sampradaya style which encourages group-performance styles.
Over the years Silicon Andhra has organized five highly successful International Kuchipudi Dance Conventions thus rejuvenating 600 year old art form. Silicon Andhra created NINE Guinness World Records under its leadership - first of its kind for any Indian community organization in the world. Silicon Andhra has also conceptualized and led Annamayya Sankeertana singing with more than 100,000 singers singing Annamaacharya's Kritis simultaneously at Hyderabad in 2009 and is championing now to make Telugu as a modern language with the help of Internet. Silicon Andhra has also organized two high impact International Telugu Internet Conferences.