Annamayya Lakshagalarchana (May 2008)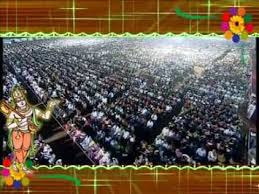 Annamacharya, who was born in 1408, composed 32,000 Sankeerthans eulogising Lord Venkateswara. The programme, 'Laksha Gala Sankirthanarchana', was organised jointly by Silicon Andhra(India), Tirumala Tirupati Devasthanam (TTD), and the Department of Culture, Govt. of Andhra Pradesh . The organisers said 160,000 people sang the keerthanas in one voice. Renowned Carnatic musician Mangalampalli Balamurali Krishna, Singer Kavitha Krishnamurthy and her husband Padmashri L. Subramanyam and Sri Garimella Balakrishna Prasad led 160,000 singers, both professionals and amateurs.
602 Annamayya Jayanthi Utsavam , Vijayawada (May 23-27, 2010)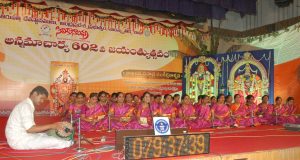 SiliconAndhra celebrated Sri Tallapaka Annamacharya 602nd Jayanthi with Akhanda Sahasra Sankeertanarchana. The singing of Annamacharya Keertnas for 101 hours, 5 minutes and 1 second by 101 groups non-stop from May 23-27, 2010 created a new Guinness World Record. This is third Guinness World Record achieved by SiliconAndhra in the last 24 months.
The closing session was held in a grand manner at the Tummalapalli Kshetrayya Kalakshetram in Vijayawada amidst cheers and jubilation of artistes, the audience and the organizers. 4590 singers created a new world record for the longest singing marathon by multiple singers by rendering 1193 Annamayya compositions. The previous record was held for 42 hours in Hungary.
The memorable event was organized by SiliconAndhra in association with Tirumala Tirupathi Devasthanams to mark the 602nd birth anniversary of Sri Tallapaka Annamacharya in Vijayawada, Andhra Pradesh, India. The main objective of the programme was to popularize the Annamacharya compositions among the general public with an emphasis on youth involvement. Annamayya wrote 32,000 keertanas in his life time. Only 12,000 are available today. SiliconAndhra selected 101 groups and distributed 10 keertanas (songs) to each group to practice and present during the event. Music teachers and students grabbed the opportunity right away to learn the rare Annamayya Keertanas. The singers came from 63 cities and towns of India on their own with utmost devotion to render the Annamayya compositions.
Amanda Mochan, the Guinness World Records adjudicator presented the Certificate and congratulated the organizers and the singers who created the new record. Anand Kuchibhotla, Founder and Chairman of SiliconAndhra said ' It gives us immense pleasure to popularize Annamayya Keertanas and create awareness about his compositions among youth. The Guinness World Record gives global visibility for Annamacharya Compositions.' Mandali Buddhaprasad said ' This historic event is clearly a milestone and opens a new chapter in the Telugu culture'. Girija Lolla, Gayathri Malapaka, Rammohan Pillutla and Prabhakar Nanduri led the event organizing team. Gokaraju Ganga Raju is the honorary chairman and Thondepu Hanumantha Rao is the Convenor for this mega event.