International Kuchipudi Dance Convention - 2016
Silicon Andhra in association with the Department of Language and Culture, Government of Andhra Pradesh organized 5th International Kuchipudi Dance convention at Indira Gandhi Municipal Stadium from December 23 - 25, 2016.
Key Highlights of the convention
1. A temporary auditorium with German technology was erected for the Convention in Municipal Stadium.
2. Outstanding dance items were presented by eminent dancers and their disciples during the Friday morning session.
3. 'Padmabhushan' Swapna Sundari performed the 'Bhama kalapam'.She mesmerised the audience with her talent.
4. 'Padmasri' Dr Sobha Naidu performed a keerthana 'Ataduruku Lonitini' in Khamas ragam. The abhinaya of Shobha Naidu was excellent.
5. The disciples of 'Kaka Ratba,' AB Balakondala Rao presented Kuchipudi Padya natakam written by Jonnavithula Ramalingeswara Rao.
6. Anupama Mohan and her troupe presented a dance ballet 'Ayyappa Jananam'.
7. Dr D Padmaja Reddy presented a dance item 'Shakthi',
8. Chavali Balatripura sundari and her group performed Ganesha Stuthi and Nataraja Sthuthi.
9. Eranki Srikanth from Hong kong came with his disciples and said that the residents of that country show a lot of interest interested to learn Kuchipudi.
10. Supreme Court Justice Sri NV Ramana appreciated the gesture of Silicon Andhra for conducting this convention. He opined that the artistes can do wonders in their field if they were taken care of. The Justice also highlighted the need of discussions to protect and promote art, culture and language.
11. High Court Justice Ramasubramanian said that Indian dance and music has its own divinity. The whole world is praising Indian Culture and arts because it holds its own significance. He also suggested to conduct music and dance festivals every year for the benefit of young and upcoming artists to observe and develop their skills.
12. Palle Raghunatha Reddy, Minister for Culture, Tourism (I and PR) said that the Government has conducted many festivals to promote the music, dance and drama and he also said that these will continue in the future as well.
13. Deputy Speaker, Andhra Pradesh Legislative Assembly Mandali Bhuddha Prasad said that his team had visited many states to observe the conditions of Telugu people and plans are under consideration to develop The Telugu language and it sculture in other states as well.
14. Andhra Pradesh Ministers Devineni Umamaheswara Rao, Kollu Raveendra, Chairman, Kuchipudi Natyaramam Kuchibhotla Anand, N Srikanth, IAS, P Pradyumna and exponents of Kuchipudi Dance like Raja Reddy, Radha Reddy, Yamini Krishna Muthry, Swapna Sundari, Sobha Naidu, Jaya Rama Rao and others were on the dais.
15. Prior to the inauguration of the convention, a grand procession called 'Sobhayatra' was also organised with many artistes and dance lovers of the city.
16. Dancers and dance lovers from 18 countries also participated in this convention
17. More than 6,000 dancers from different parts of Andhra Pradesh,Telangana and other states within India, the US, Canada, UK, Russia, Dubai, Mauritius, Malaysia and Singapore and a few other countries participated in this mega event.
18. The "Maha Brunda Natyam" (grand group dance) was organised as part of the '5th International Kuchipudi Dance Convention'. "Jayamu Jayamu" is one of the glorious items of the classic 'Kuchipudi' dance, choreographed by the legendary Vempati China Satyam.This 12-minute item was chosen for this year's group dance at the event. Dancers from across the country as also from countries like US, UAE, UK, Russia, Hong Kong and Mauritius took part in it. More than 6,117 artists performed in unison to create a new Guinness World Record as a Grand Finale on the last day of the event.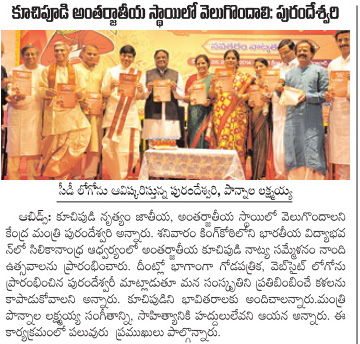 Andhra Jyothi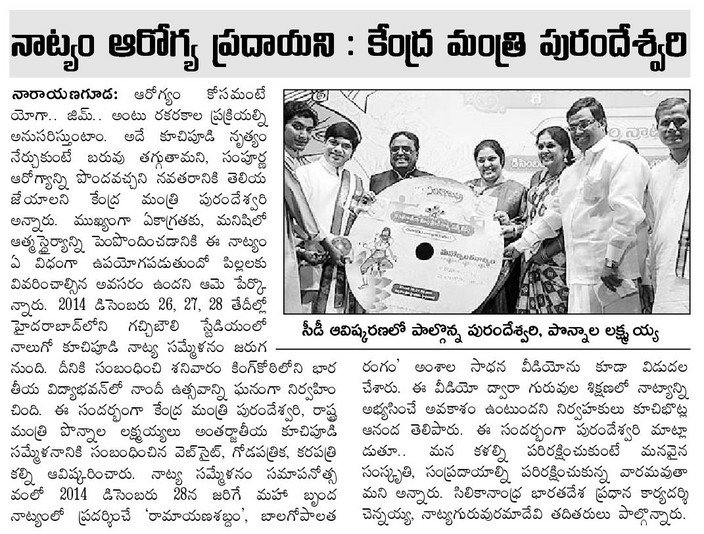 Eenadu-8dec-13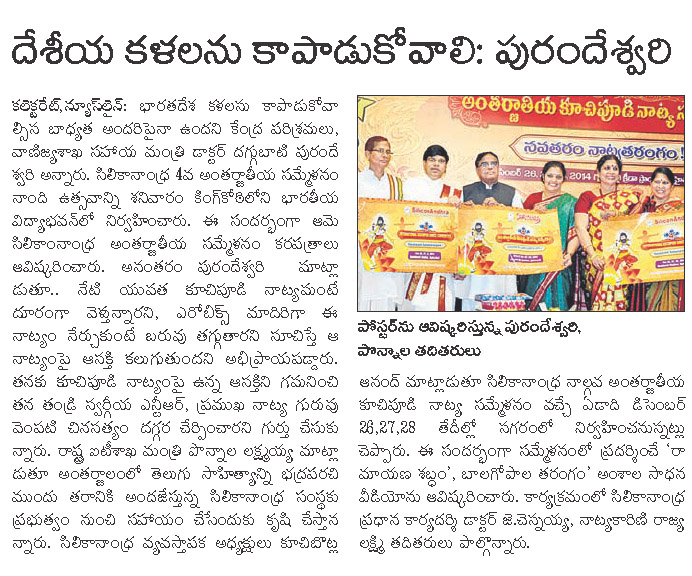 Sakshi-8dec13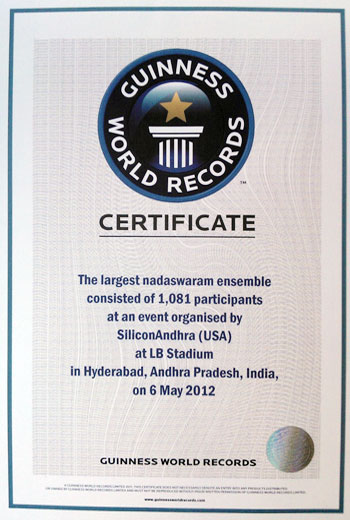 Kuchipudi Guinness Record - 6th May 2012